Liszt Ferenc Kamarazenekar - Zeneakadémia-bérlet 4/3
On the third concert of the Franz Liszt Chamber Orchestra's seasonal ticket, the ensemble will embark on a musical spiritual journey. The concert will start with an ethereal dance collection from the late 19th century, composed by Grieg, the best-known Norwegian musician, and performed by today's increasingly popular Norwegian violinist, Eldbjørg Hemsing, the soloist for the night.
 After the charming start, the concert will take a leap into the wild yet delightful world of Planet Earth: the transcribed suite of Jacob Shea, played on the occasion for the first time, builds on the motifs of the popular television documentary series. Following this, the quest will continue in a slightly different manner: the violin concerto of the contemporary Latvian composer Pēteris Vasks is considered to be a single movement of hope, some real music for the soul. The string orchestral adaptation of Bach's Chaconne is already widely known through the image film of the orchestra among its fans and this time the audience of the Academy of Music shall have its turn to soar with the ensemble. The concert is part of a joint climate and environmental project dreamed up by the orchestra and the soloist.
Franz Liszt Chamber Orchestra
Artistic director: István Várdai
Concertmaster: Péter Tfirst
Soloist:Eldbjørg Hemsing (violin)

Grieg: Holberg Suite, Op. 40
Jacob Shea: Planet Earth – Suite for Violin and String Orchestra
---
Pēteris Vasks: Distant Light – Concerto for Violin and String Orchestra
Bach–Busoni: Chaconne from the Violin Partita in D minor, BWV 1004 – transcription for string orchestra, arranged by Zoltán Tfirst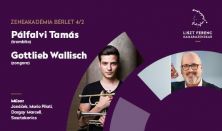 Buy tickets
The second concert covered by the Academy of Music seasonal ticket of the Franz Liszt Chamber Orchestra will feature Beethoven:…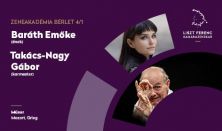 Buy tickets
For its first concert at the Academy of Music in this season, the Franz Liszt Chamber Orchestra chose an interesting…