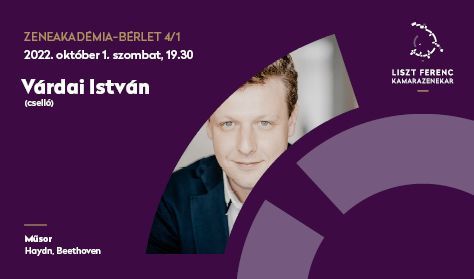 LFKZ Zeneakadémia-bérlet 2022/23 4/1 - Várdai István (cselló)
Masterpiece on the International Day of Music – in cooperation with the Franz Liszt Academy of Music
Season ticket Liszt Academy/1
Nincs aktuális előadás
Ön egy múltbeli eseményre keresett rá. Kérjük, válogasson aktuális kínálatunkból a Jegy.hu keresőjében!
Last event date: Saturday, October 01 2022 7:30PM
One of the most renowned chamber music ensembles is preparing a real feat with its world-class artistic director, cellist István Várdai: following two Haydn pieces, the second part of the concert will feature a large orchestra, conducted by Várdai, playing Beethoven's monumental Eroica Symphony.
During the first part of the concert, the audience will be able to witness the collective thinking and the perfectly honed collaboration that has been established between the artistic director and the ensemble over the course of two and a half years, and to enjoy the true musical soaring coming from such a solid foundation.
Following the break, fresh, new elements of larger-scale musical constructions shall enhance the experience.
On the International Day of Music, the Franz Liszt Chamber Orchestra will shine a light on what it considers to be the foundation of its artistic credo: the timeless beauty of classical music and the professional support of young artists.
As part of the ongoing Masterpiece project, on the season-opening concert open to holders of the seasonal ticket, the Franz Liszt Chamber Orchestra will once again share the stage with the students of the university, its mentored and talented young musicians.
Franz Liszt Chamber Orchestra
Artistic director, soloist and conductor: István Várdai (cello)
Concert master: Péter Tfirst
With the participation of the students of the Franz Liszt Academy of Music

Programme:
Haydn: Cello Concerto in D major, No. 1, Hob. VIIb:2
Haydn: Cello Concerto in C major, No. 2, Hob. VIIb:1
****
Beethoven: Symphony No. 3 "Eroica", Op. 55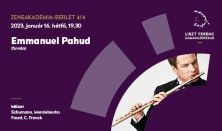 Buy tickets
Season ticket Liszt Academy/4 Emmanuel Pahud has the virtue, typical of the greatest soloists, of not simply playing a piece, but telling stories through them. His brilliant technique and virtuosity, of course, is a prerequisite for this, but his stage charm and presence engaging all our senses is the result of this captivating musical storytelling role.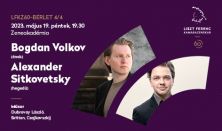 Buy tickets
Season ticket, FLCO60/4 - Turning points – Dubrovay / Britten / Tchaikovsky It is a lovely moment when celebrants greet each other turning towards the next decades with an exchange of good wishes.
Season ticket, FLCO60/3, Masterpiece project – Organized by the Franz Liszt Chamber Orchestra and the Liszt Ferenc Academy of Music…
Season ticket, FLCO60/1 - Prayer of Atonement We stand bewildered seeing the great sins of humanity, confused by the evil…
A Liszt Ferenc Kamarazenekar és a Bábozd Zöldre Egyesület zenés-bábos előadásai a természet, a környezet és a zene harmóniájáról.
Warning! The basket time limit is about to expire!
estimated time left:
00:00
Time limit has expired. Please, put item(s) in to basket again.
---